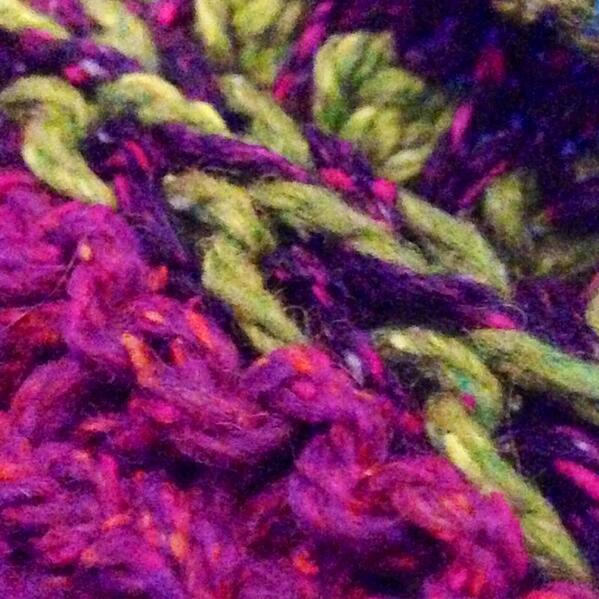 Pretty color of Plymouth Yarn Taria Tweed
I read a little blog post today somewhere -- to be honest, I was still half-asleep and I clicked on a link in my Twitter stream -- about how to drive more traffic to your blog by having catchy titles and what titles work better. Apparently, numbered steps (don't spell out the number of steps) and DIY/how-to posts are most effective/popular. We'll see.
Step 1: Just Ask --
For several years, I've worked with a company in northern Virginia that dyes beautiful yarns, mostly lace weight and light weight yarns, and knit samples for them. They're a fantastic, talented duo (check out their stuff:
Just Our Yarn
) and the projects are fun to knit.
I met Diane and Cathy at Stitches East quite a few years ago -- I just checked my email history and it
was in 2008! -- by chance. My friends Jana and Pat had shopped at their booth first and when we stopped for a shopping break and a little snack, Cathy dropped by our table and we all chatted about how they started the business. Just on an off chance, I asked if they were hiring and that's where it started.
Through Just Our Yarn, and Diane and Cathy, I've knit a lot of lace with and without a lot of beads. It's a way for me to get my lace knitting out there without collecting a lot of lace shawls I don't know what to do with.
Did I get rich knitting samples for Just Our Yarn? Definitely not. But I enjoyed it and got to use really great yarn and neat patterns. And added a little extra yarn money to my budget.
Step 2: Fleece Your Friends and Family
Okay, so, this one isn't that nice. But it's gotta be said. You know that friend that loves everything you knit? Always wants to see your last project? Comments on how pretty the hat/scarf/shawl/sweater you're wearing? And then asks you to knit it for them?
Make them pay.
Sure, I'll knit this same hat for you. I'll pick out the yarn I want to use. I'll name the timetable. I'll charge you $XX.xx amount of money. Is it outrageously expensive? Absolutely. But your time is worth it. Can you do the same thing for the same friend and not charge? Definitely. But why not get some cash for your hard work.
(Okay, so step 2 was really just because I can't figure out a step 2.)
Step 3: Email Me (steven at rodeoknits dot com)
Last post I talked about my knitting team. I want to eventually be able to pay test and sample knitters for their time and abilities, so this isn't an automatic paycheck for knitting.
But, do you want to get on the team? I'd love to have you! Starting now, I'll offer yarn support for combination test and sample knitters, or just plain sample knitters. For test knitters (for now), it's still an on-you type proposition -- I'll provide the pattern and a timeline, you provide the yarn and the know how.
And now the important information --
Test Knitters:

Prerequisites (I love that word): know how to knit, provide your own yarn/tools, provide feedback, meet a deadline, communicate.
What you can expect from me: Existing pattern or, if it's an unreleased pattern, a general idea of the yarn weight and amount, tools, and gauge that will be expected.
What I expect from you: Follow the pattern. Communicate any problems/confusion (or lack of problems/confusion) with instructions. Take pictures and post to Ravelry when the pattern is released.
What you can expect from me in the future: More patterns!



Sample Knitters:

Prerequisites: All of the above, plus test knitted at least two of my patterns. These can be existing patterns (just contact me and I'll send you the patterns you want to test), or be surprised when I have new patterns coming out.
What you can expect from me: I'll send you the yarn for the finished sample.
What I expect from you: Follow the pattern. Finish the sample, including blocking if necessary. Get the sample back to me by the deadline, or communicate if there needs to be some change to the schedule.
What you can expect from me in the future: money (hopefully)
I can't wait to find new knitters to work with. Part of the knitting process I love so much is sharing the experience with other people, especially new knitters that are building confidence. Don't be shy! And
keep an eye out for announcements about patterns that need test and sample knitters.